ONE ON ONE BASEBALL INSTRUCTION
PRIVATE COACHING
FOR DEVELOPING PLAYERS
Are you ready to up your personal game and stretch your limits?  We are here to guide you to achieve YOUR personal best.

PRIVATE LESSONS
Schedule a lesson with one of Upper Deck's
professional instructors today

TEAM PRACTICE
Rent the facility for your
team's indoor workout
DON'T JUST GET IN THE GAME…
GET AHEAD OF THE GAME.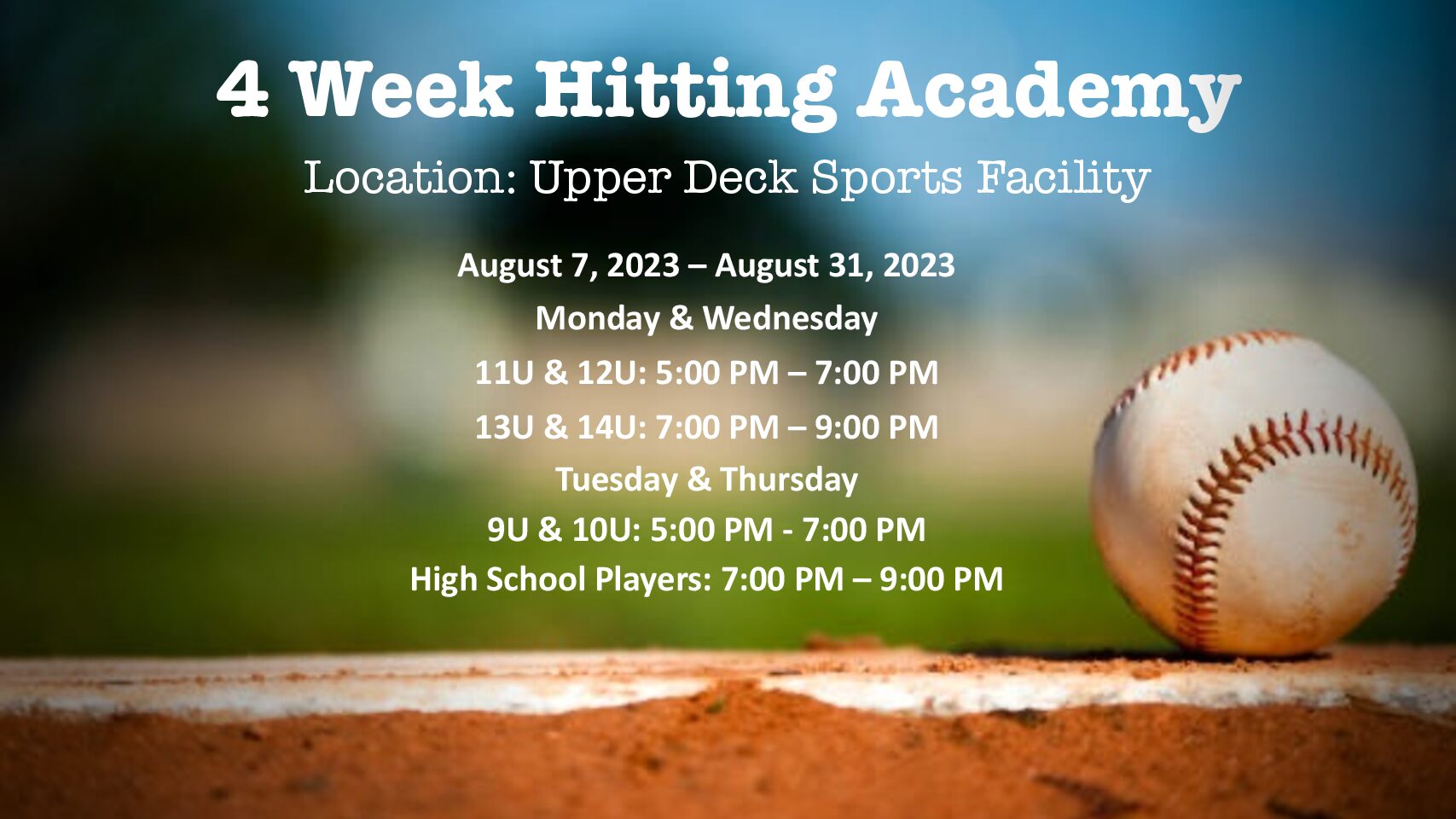 OUR PROFESSIONAL INSTRUCTORS ARE HERE TO HELP!
At Upper Deck, our academy is designed to help with player specific hitting and throwing while building strength to maximize peak performance with some of the best college and former MLB players this area has to offer!
SPACES ARE LIMITED!
LEARN AT YOUR PACE
BE AN ACTIVE PART OF YOUR DEVELOPMENT.
At The Upper Deck, we tailor each lesson to the individual, whether it's pitching, hitting, fielding, catching, speed or even your mental game Upper Deck professional coaches are available for all aspects of the game.  Contact us today to schedule a private consultation or lesson.  We'll get you well on your way.
Team Practice 
(Full Facility):
$100/hour
By Appt Only
Call to schedule.
Cage Rental 
$30/half hour
$55/hour
By Appt Only
Call to schedule.
Private Lessons:
(1/2 Hour)
$45/lesson
$225/5-pack
$450/10-pack
Professional Lessons:
(1 Hour)
$90/lesson
$450/5-pack
$780/10-pack
WHAT PEOPLE SAY
DON'T JUST TAKE OUR WORD FOR IT.
The staff/coaches of The Upper Deck & Upper Deck Travel-Ball are fully committed in helping each and every player improve their skill set. I've personally seen great progress in the 6 months my two sons have been involved in this program. The staff's vast knowledge, experience, & work ethic has me fully confident my boys and every player will continue to get better under their guidance.

Rob Leary
–
Former Miami Marlins Bench Coach, Currently Scouting with Arizona Diamondbacks
The Upper Deck facility and staff are second to none in Brevard county. Jason and his staff are knowledgeable coaches with the experience to back up their teachings. I personally work-out at the facility on a daily bases in my off-season, and they have everything you need and more. I can guarantee with the guidance and resources that the Upper Deck has to offer that there's the perfect ingredients to further anyone's baseball or softball career. It's a family atmosphere and I'm proud to be a part of this family!

Chris Heston – Right handed pitcher, currently a free agent