THE UPPER DECK FACILITY
AND WHAT IT OFFERS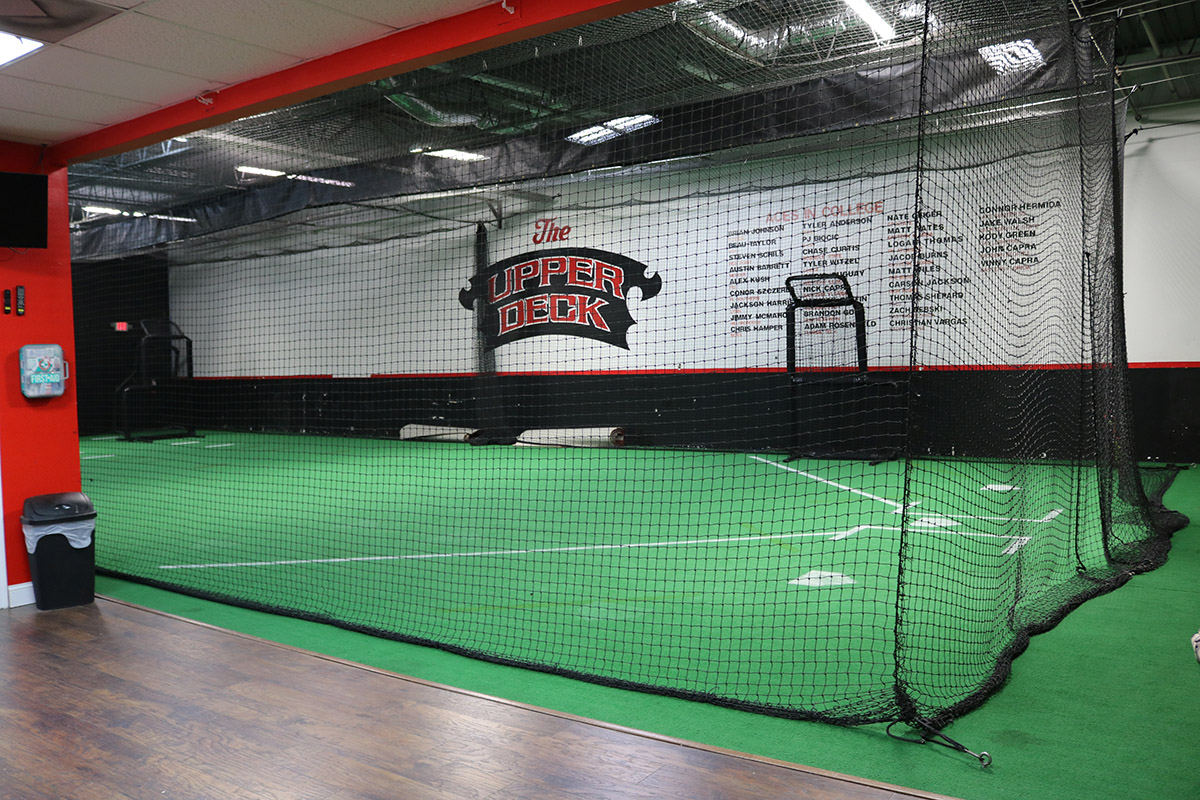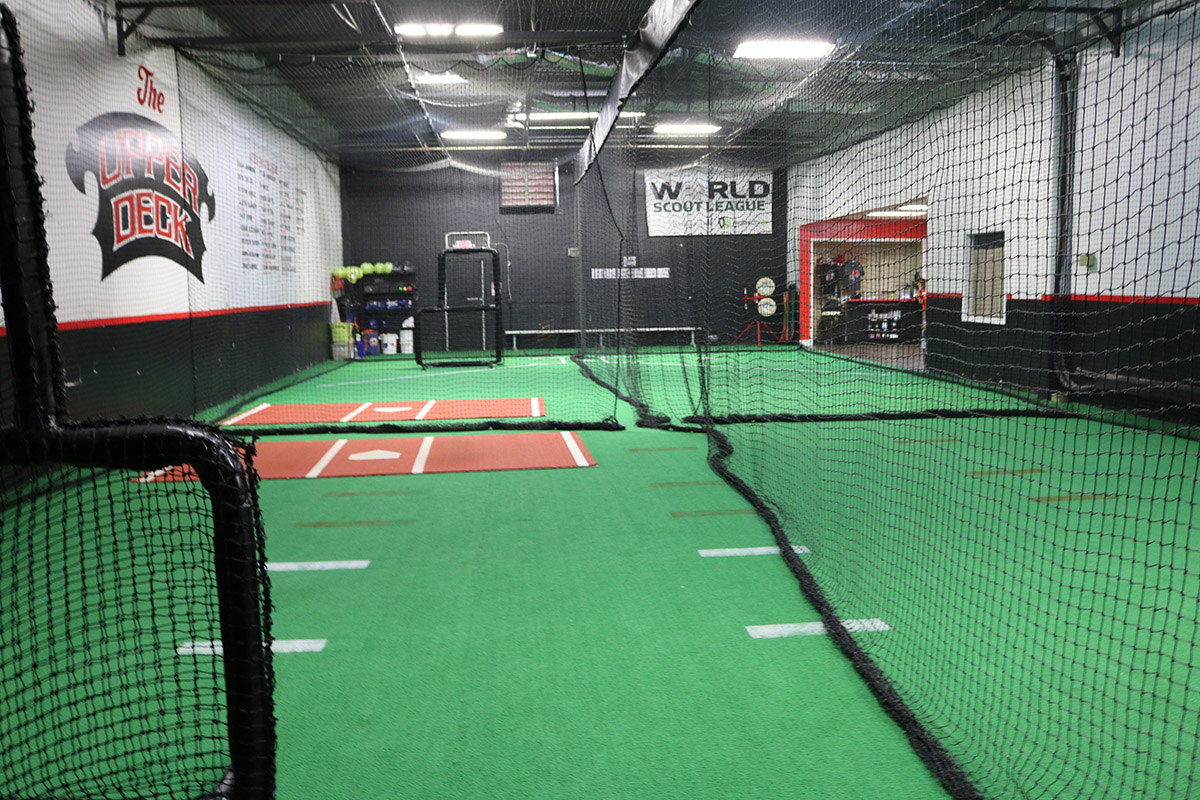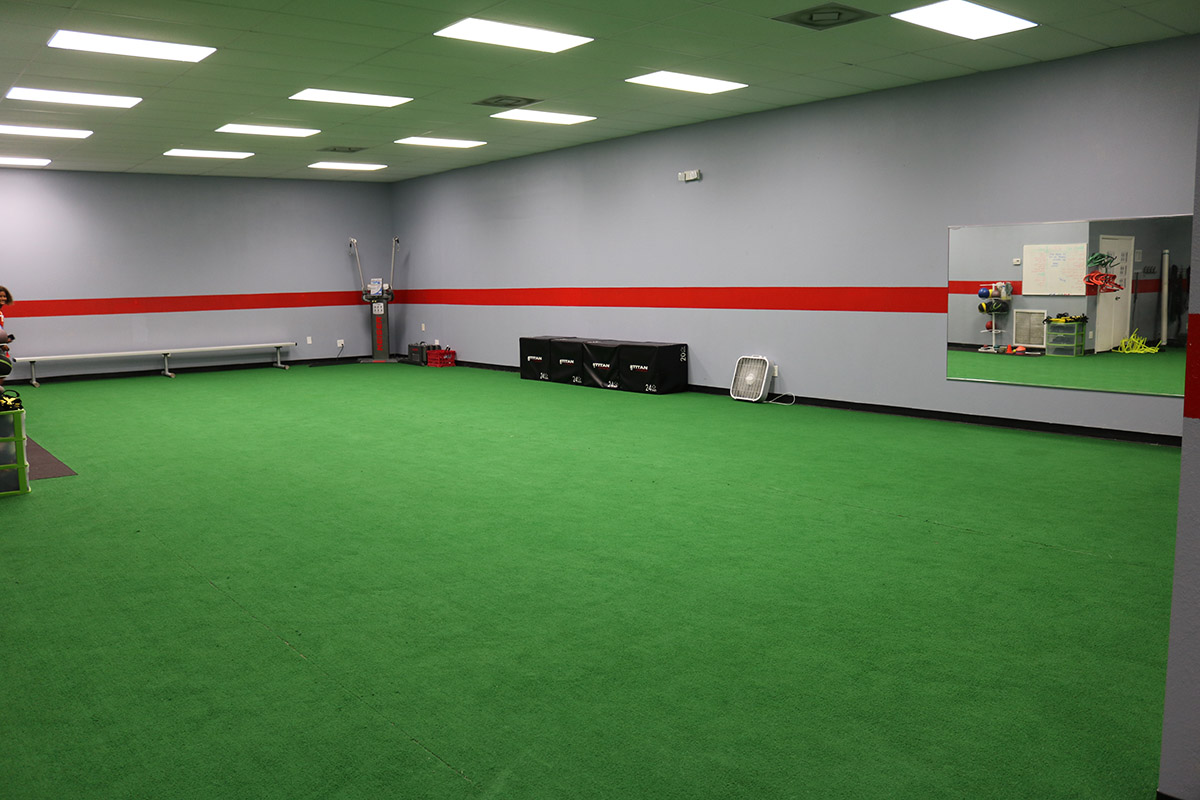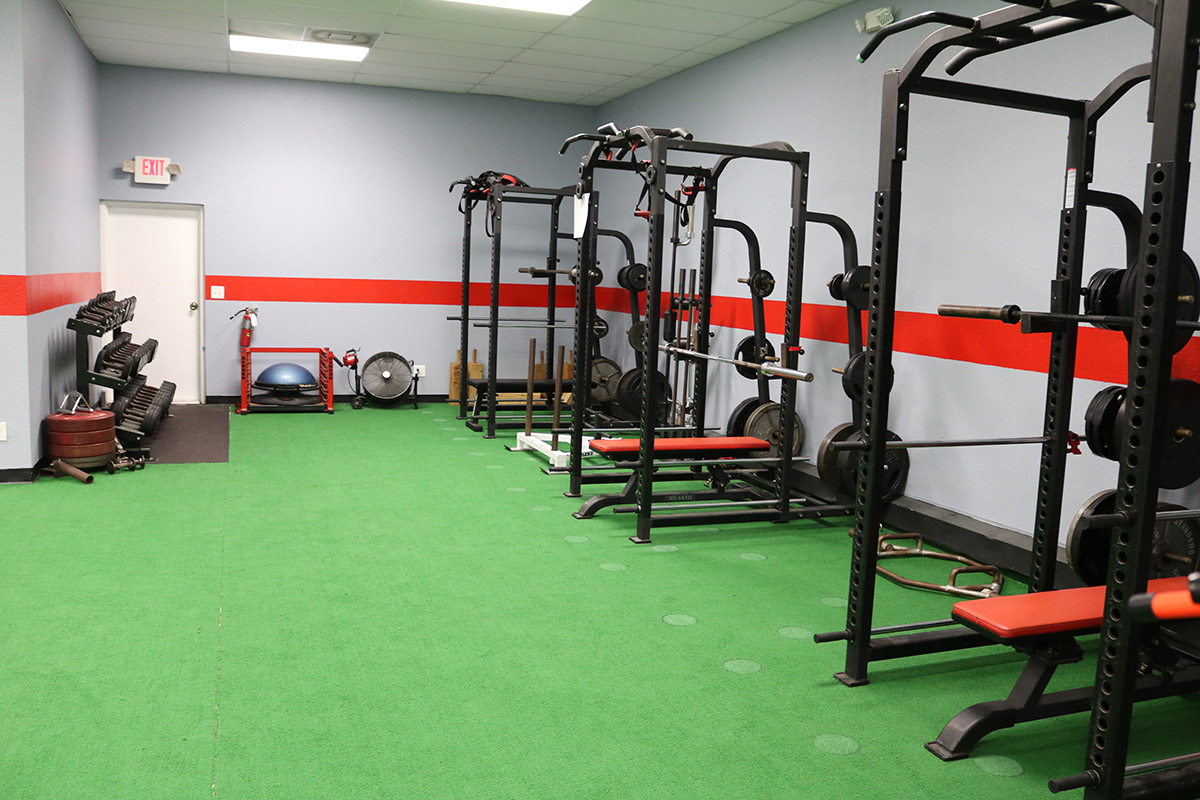 Our Facilities – (5,266 sq. ft.) The Upper Deck is perfectly designed for any baseball & softball team or any individual looking to better their skills. We have many resources that our clients can take advantage of including; pitching machines, curveball machine (baseball & softball), pitching mounds (all dimensions), performance gym (Speed & Strength), and professional/collegiate instruction.
_____________________________________________________________________________________
Practice Room #105 – (3,162 sq. ft.) This is our team training area. Perfectly designed for any baseball or softball team to run super-efficient practice. Our cages can be setup in multiple different ways. With all the nets pulled back it can become an open rectangle with the dimensions of 3o ft. wide by 70 ft. in length and 14 ft. high. The nets can also divide the cage into 4 separate cages with dimensions of 15 ft. wide by 35 ft. long. Lastly the cages can be divided into two long tunnels with dimensions of 15 ft. wide by 70 ft. in length.
Also, our training area is equipped with many baseball & softball training aids. Such as speed & agility ladders, hurdles, and cones. Weighted balls to increase hand strength through contact. Tennis balls for multiple purposes. Both regular sized and golf ball sized wiffle balls including broom stick handle bats for hand-eye coordination. Another included feature is our state of the art duel wheeled pitching machine that can be converted to baseball or softball. This machine can throw fastballs, curveballs, sliders, and rise balls.
Lastly, this area is A/C climate controlled with a parent viewing area with a 32-inch flat screen TV.
_____________________________________________________________________________________
Speed & Agility Training Room #104 – (2,104 sq. ft.) This is our athlete performance gym fully equipped with turf flooring. Athletes use this area to work on their speed & agility as well as body strength. Our athletes will be instructed by CSCS certified trainer Mike DeVinney.
This is the best component for any athlete trying to take their game to the next level. To increase an athlete's performance, they must be explosive and dynamic. Athletes will learn how to use their entire body to perform specific skill sets within their respected sport.
WE ARE FULLY QUALIFIED INSTRUCTORS
ABOUT US AND WHAT WE DO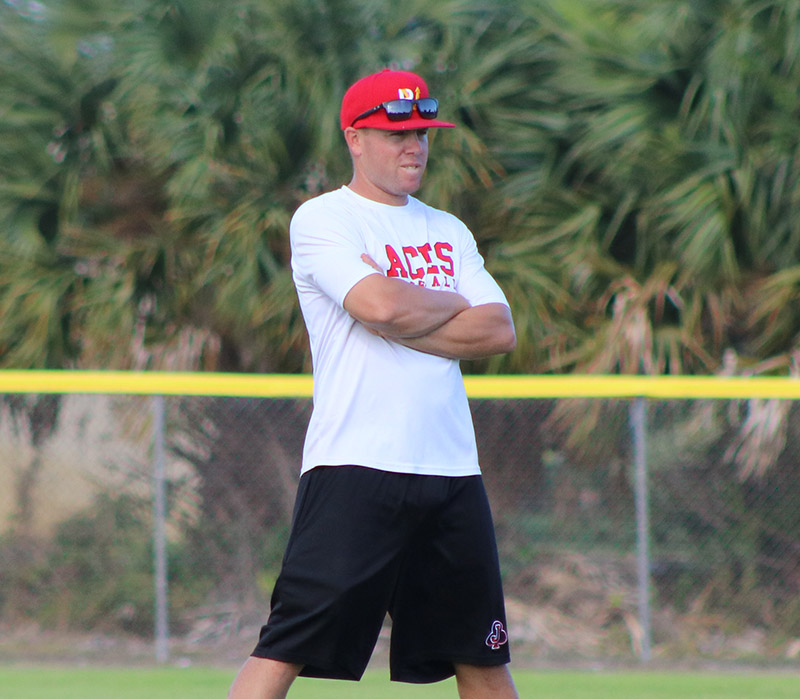 Jason Stidham
Coach
As a player Jason Stidham played at Melbourne High School under Coach Pete Donovan. As a Bulldog Stidham was a two-time Space Coast Player of the Year (2005 and 2006). In 2005 he was FSWA All-State first team and in 2006 FSWA All-State second team. Stidham was selected in the 2006 MLB Draft in the 43rd round with the 1286th overall by the Arizona Diamondbacks.
Out of high school Stidham attended Florida State University in 2007. Stidham made the All-ACC First-Team and earned Louisville Slugger Freshman All-American recognition as well as first-team Freshman All-American accolades. Stidham posted a .366 batting average in his first season with the Seminoles collecting 86 hits, 17 doubles, six home runs and 48 RBIs and was named the ACC and NCBWA National Player of the Week for his performance (.581 batting average) against Georgia Tech to close out the regular season. Stidham started at third base in all 61 games that he saw action, while going a season-high 17 games without committing an error at the hot corner.
In 2008 Stidham was a Brooks Wallace Award Preseason Watch List candidate. His sophomore season he moved from third to second base where he made 62 of his 64 starts. Stidham hit .324 with 82 hits in 255 at-bats, and was one of only three Seminole players to register double-digit home runs finishing the season with 11. Stidham was the top hitter for the Seminoles in the NCAA postseason posting 21 hits and a .477 average in 10 games, while registering at least one hit in nine of 10 games. Stidham started both games of the College World Series and hit a three-run homer in the bottom of the eighth against Stanford erasing a three-run deficit to tie the game at 5-5.
During the 2008 Summer Stidham was selected to play in the premier Cape Cod Summer League. His was a member of the Harwich Mariners that finished in 1st place that Summer. Stidham was named Co-MVP of the Cape Cod Championship Series.
In 2009 Stidham was selected by the St. Louis Cardinals in the eighth round (249th overall) of the 2009 amateur entry Draft. He played three seasons with the Cardinals before ending his career due to injuries.
Stidham has worked for multiple baseball/softball facilities before returning back to his hometown here in Melbourne. His passion is working with youth baseball and softball players. He is the owner of the Upper Deck Sports Facility.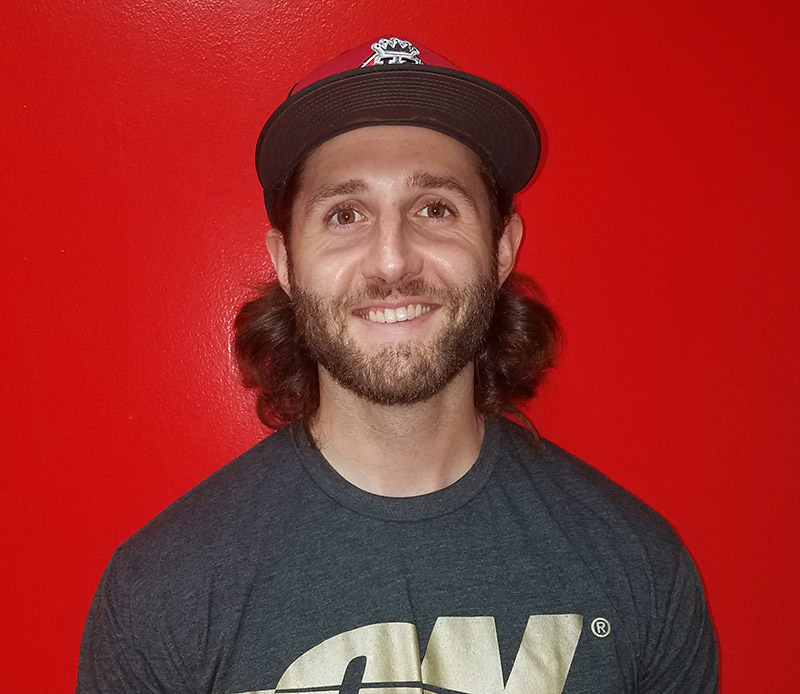 Mike DeVinney
Coach
Mike DeVinney grew up in a small town in Upstate New York where he first fell in love with the game of baseball. His dad was a college baseball player so of course all he wanted to do was follow in his footsteps. Mike grew up playing mainly shortstop and pitcher until he decided to transfer to becoming an outfielder his junior year when the team needed a new center-fielder. Mike then went on to play college baseball where he continued his career as an outfielder and really perfected his defensive and offensive abilities through great coaching. Mike was named league MVP of his 16U travel team while batting over .500, made the Patroon Conference All-Star team his Senior year of high school, was the Senior captain at North Carolina Wesleyan, and was also named to the 2013 USA South All-Academic team.
During Mike's college baseball career he found his real passion in strength and conditioning. He learned from experience the impact that getting stronger in the weight room had on his ability to hit the ball further and throw the ball harder. Mike ended up getting his Bachelor's Degree in exercise science at North Carolina Wesleyan College and then continued on and got his Master's Degree in sport and exercise science at the University of Central Florida. While at UCF, Mike worked as an intern strength and conditioning coach for the school working with some of the best athletes in the nation. He since has become a Certified Strength and Conditioning Specialist and has found his passion for helping athletes become bigger and stronger through the most up to date scientific training techniques.

Jim Brackin
Coach
Jim began playing in 1972, while in the Army, stationed at Ft Jackson, SC, and Ft Meade, MD. He played for a year in the very strong Baltimore city league, before moving to the also strong DC city league at Guy Mason Park. He played for the Wilson Powell Monarchs back in those awesome days, 1976 thru 1982. In 1982, he was picked up as a guest player for the US Olympic Festival, by the Sunners softball club of Reading/Allentown PA, and their world famous pitcher, Ty Stofflet. He played with the Sunners 1983-1986, then with Nothdurft Tool from Detroit in 1987. He retired from Men's Major competition, to spend more quality time with my young sons and their athletic endeavours. He did get lured back to Major Level for one more year in 1992 (Tuckers of Baltimore).
He had such a great time, met lots of awesome people, and had some success doing what he loved:
Competed in 9 ASA Men's Major Fastpitch and Masters Division National Tournaments, with seven top-10 finishes
chosen 1st team ASA All-American 5 times (Men's Major Level 1979, 1983, and 1986. Men's Masters Division 1988, 1999)
ASA Major Fastpitch Nationals Batting Champion twice (ASA Record, tied with 2 others) 1979 batted .533, 1986 batted .563
.402 lifetime batting average in ASA Men's Major National Tournaments
US Olympic Sports Festival Silver medals 1982 and 1986
Shortstop for Team USA in the Pan American Games. Won silver medals, 1979 in Puerto Rico and 1983 in Caracas, Venezuela. Selected to the team as first alternate for the 1987 Pan Am Games in Indianapolis
Selected as Assistant Coach for Men's Team USA for the 1991 Pan American Games in Havana, Cuba
in 1996, inducted into the ASA National Softball Hall of Fame, located in Oklahoma City, Oklahoma.
In 1996, inducted into the Washington DC Softball Hall of Fame
In 2014, inducted into the Space Coast Sports Hall of Fame (along with Doug Flutie, Tim Wakefield, Chris Collinsworth, Wilbur Marshall, golfer Laura Baugh, etc.)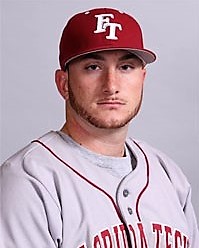 Mike Demma
coach
Coach Mike Demma grew up in Broward County Florida where he was a standout athlete at both high schools he attended. After posting a .487 batting average coupled with a 0.00 ERA in his senior season at Highlands Christian Academy, he was recruited by the Florida Institute of Technology (Florida Tech) in the Fall of 2006.
After proving himself during his freshman season at Florida Tech, Mike was rewarded with a starting role at first base in his sophomore year. That year he played a vital role in the team's first playoff appearance since 1992. During his senior year, Demma batted .370 with 11 home runs, 18 doubles, and 51 RBIs, boosting his team to yet another playoff berth in 2010. That same year was awarded as 1st team all SSC and was also honored as Florida Tech's Male Student Athlete of the year.
Since graduating, Mike has developed an extensive coaching background including one season as an assistant coach at Florida Tech in 2012, and three seasons as an assistant coach at Palm Bay Magnet High School. He has also been conducting private instruction for both softball and baseball for the last 7 years. Coach Demma's expertise includes: Hitting, pitching (baseball only), catching, and all positions in the infield.